X
Avant Garde Aleworks
Event Space, Public, Graphics
Avant Garde Aleworks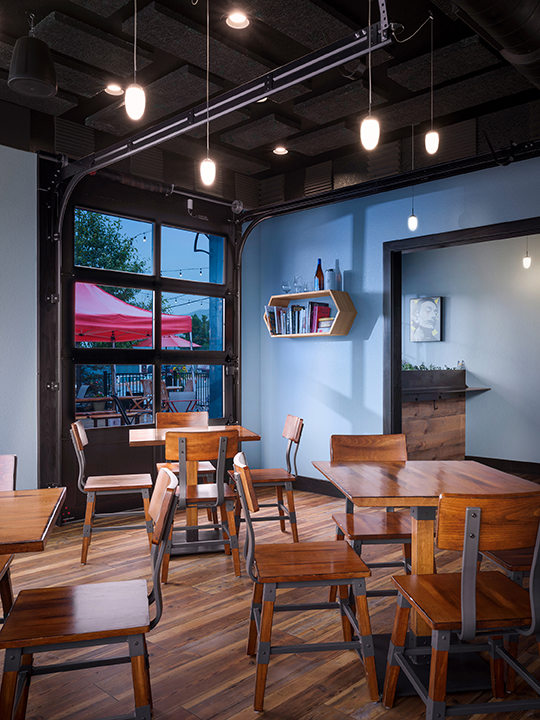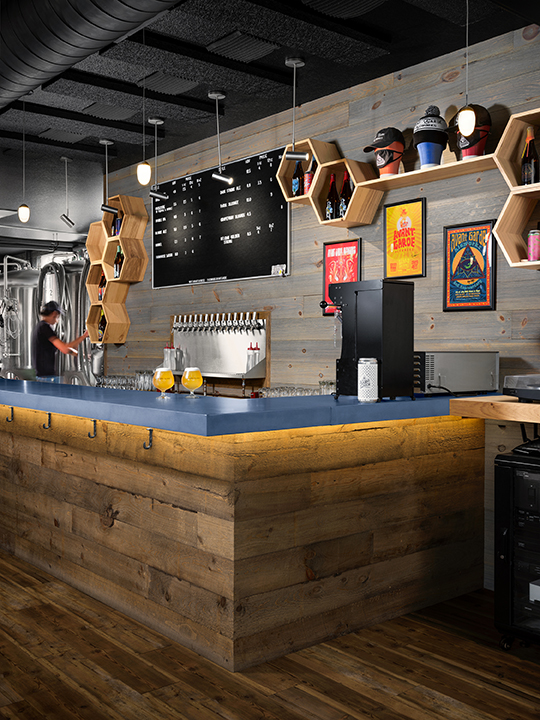 Creating a Multi-Functional Space
The Avant Garde owners purchased a property with the intent to place a micro-brewery in the small building. The challenge was to fit a bar, brewing operations, and customer seating in the limited area. The design had to utilize every inch to accommodate these elements and meet all the zoning requirements. To maximize seating we opened up the side of the building with a glass overhead door leading to a large patio area. In warmer months, the patio's flagstone fountain and ample seating more than double the space. For colder months the intimate seating area feels larger with natural light flooding in.
Preserving the open area for a patio meant finding another solution for parking. Street parking was available, but cars are not permitted to back out into the roadway. Convincing the town to allow 'back-in' diagonal parking, so cars could pull forward into the street, allowed the project to meet its requirements. Utilizing every corner, the building basement was outfitted for dry and cold storage, plus other brewery operations.
The building had an ancient elevator that we retrofitted with a new lift to use for transporting supplies between floors. To retain the historic character, we saved and refurbished the original steel frame, winch and gears matching it with a vintage elevator cage. These elements came together in a unique design feature, melding modern functionality with a historic aesthetic.
Another challenge of the small space with ample glass and other hard surfaces was noise control. The owners wanted to feature a vinyl DJ and host live music so we needed to optimize the acoustics. We approached the challenge similar to creating a sound studio which allowed for a packed house with music events that wouldn't overwhelm. Sound panels of varying types were strategically placed along the black ceiling to conceal their purpose and minimize sound reverberation, maximizing sound quality for music and conversation.
Maximizing Space
An existing bulkhead formed by the stair to the basement created a 'dead' space, though full of daylight. With such limited seating, we repurposed the area, installing a steel angle as a drink shelf and a planter which takes advantage of the ambient light. It's become one of the favorite hang-out spots with customers adding to the garden succulents with contributions of figurines and small ornaments that create an ever-evolving display.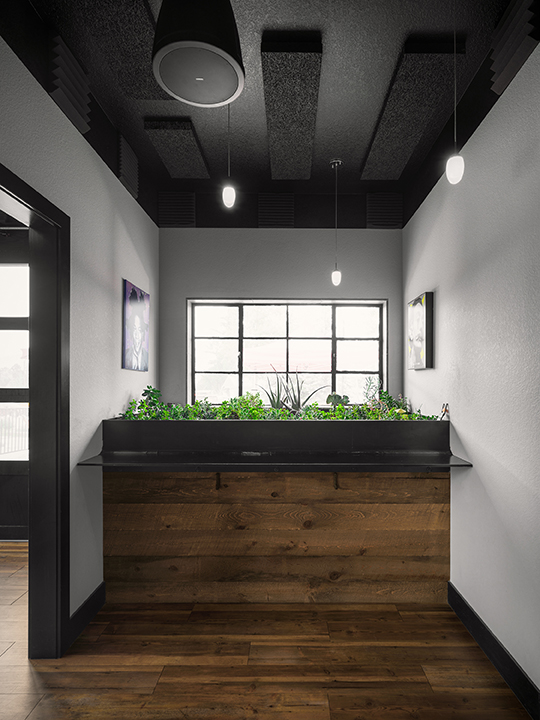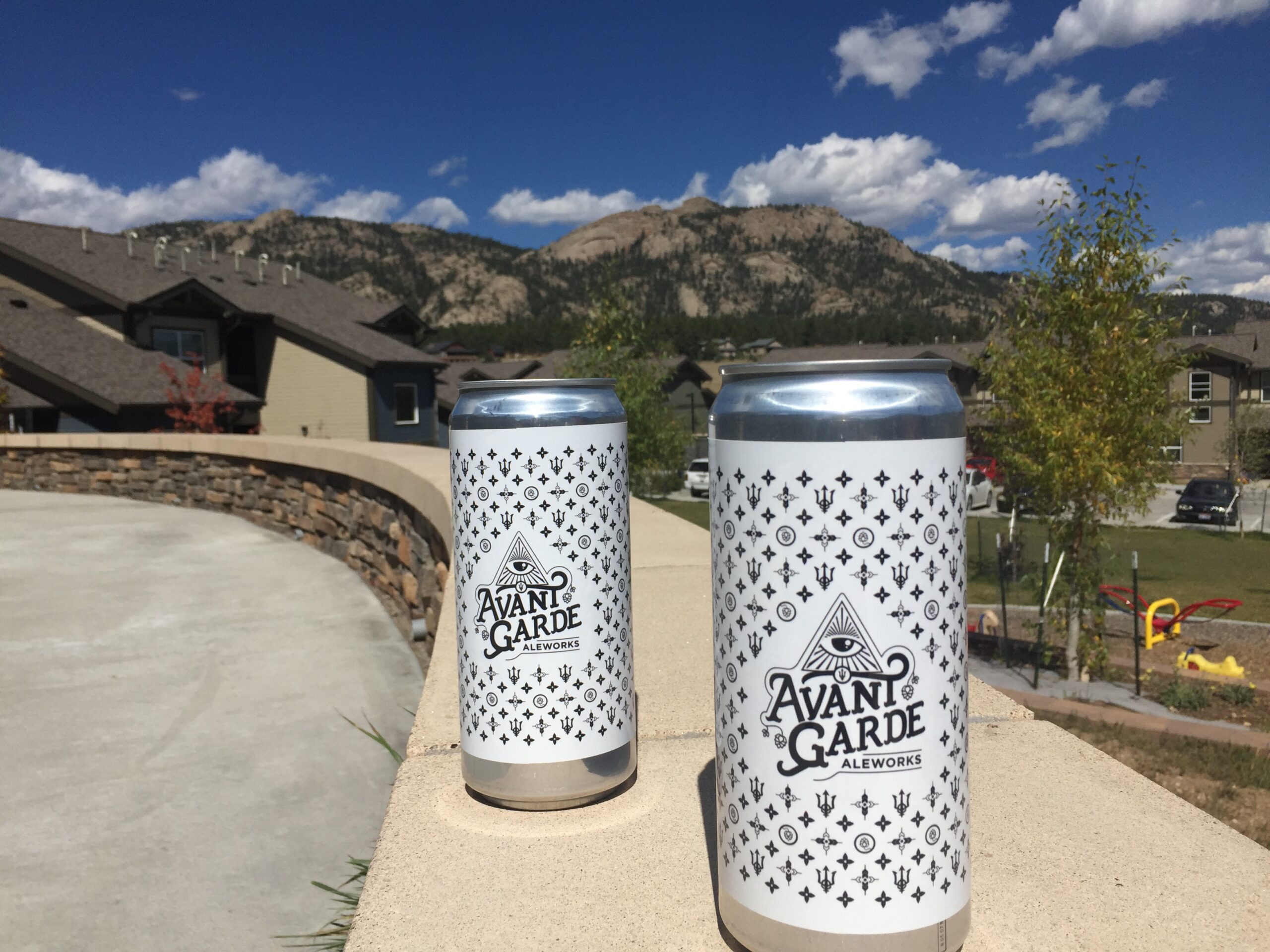 Design Beyond the Walls
We take the time to get to know our clients before pencil hits paper. For the owners of Avant Garde, they were not only looking for architectural concepts, they needed a visual identity to encapsulate their commitment to their high-end, out-of-the-box ales. Our graphics team jumped in and helped them create an overall logo, logo elements and a brand story that became the foundation of their eclectic visual identity moving forward.
Find out more about this microbrewing gem in the Rockies: Avant Garde
Services
Architecture
Interior Design Consulting
Brand Identity
Logo
Website